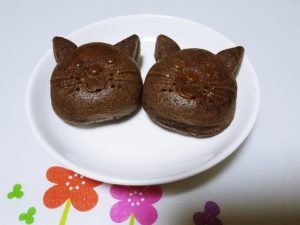 Ingredients:
1/4 cup unsweetened cacao powder
1/2 tsp baking soda + 1 tsp lemon juice (mixed together)
1/4 cup erythritol + stevia (or another sweetener of choice)
1 tsp liquid vanilla extract
4 eggs
1/2 cup (120g) ricotta cheese
Directions:
1. Preheat the oven to 175C (350F).
2. In a mixing bowl mix the cacao and sweetener.
3. In another mixing bowl slightly beat the eggs.
4. Add the slightly heated ricotta cheese (30 sec in the microwave or on the stove top and it shouldn't be hot) to the eggs. Mix with a hand mixer until uniformity.
5. Add the egg with ricotta mixture to the cacao with sweetener.
6. Mix the baking soda and lemon juice and add to the dough.
7. Add the vanilla extract and once again slightly mix with a hand mixer.
8. In a silicone mold put in 1-2 tbsp of the dough (only fill half of the mold).
9. Bake at 175 C (350 F) for 25-30 min. Check if it's ready with a wooden toothpick.